With Advent upon us we have wound down our large group build days for the year. We timed our construction season well, and are diving into the finishing work on our two homes in Greensburg. This is a great opportunity for semi-skilled individuals or small groups to make a big hands-on impact. We have volunteers working most Friday mornings, please contact Daniel Giovannelli (724-221-7510) for the address and details.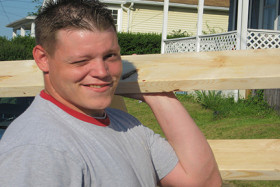 We have begun scheduling volunteer groups for 2018. This can be a great group activity for an employer, church or community group. Please contact us to discuss the details and to get on the calendar!
Habitat for Humanity partners with families to build or rehabilitate decent and affordable homes. Volunteers are a critical component in this. Part of what makes Habitat homes affordable is our ability to reduce costs through volunteer labor and donated building materials. Without volunteers we simply could not do the work that we do.