Upcoming Build Days!!
Now that spring is acting like summer its the PERFECT time to come help build some houses! Central Westmoreland Habitat for Humanity helps to provide affordable housing to low-income families in Westmoreland County. The single biggest factor in being able to do this is our heavy use of volunteer labor. Quite simply Habitat for Humanity would not exist without the support of our volunteers. Construction skills and experience are always helpful, but if you've never built a house, or even hung a shelf, before don't worry, we still want and need your help. In 2017 we will be building on Fridays and Saturdays. Fridays will be for higher skilled volunteers that are able to work relatively independently. Saturdays will be for larger groups and volunteers of all skill levels.
To schedule a larger group of volunteers (10 or more) please contact Daniel Giovannelli (724-221-7510). This can be a great group activity for an employer, church or community group. If you are flying solo or with a small group please click here to view our available opportunities. Most build days will be focused on our two homes under construction in Greensburg.
To maintain a safe and productive work site we are only able to accept a limited number of volunteers, so please only sign up if you are committed to volunteering for the majority of the day.  For more information please contact Daniel Giovannelli.
July 14 – Laurel Highlands Visitors Bureau
July 15 – Diocese of Greensburg (sign up here to volunteer with the Diocese group!)
July 22 – Duncan Financial
July 29 – Word of Life
August 19 – Diocese of Greensburg (sign up here to volunteer with the Diocese group!)
August 26 – Word of Life
September 8 – United Way Day of Caring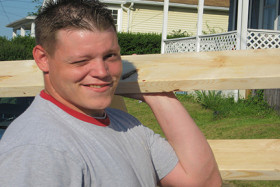 Habitat for Humanity partners with families to build or rehabilitate decent and affordable homes. Volunteers are a critical component in this. Part of what makes Habitat homes affordable is our ability to reduce costs through volunteer labor and donated building materials. Without volunteers we simply could not do the work that we do.
While we love skilled labor, no experience is necessary. Please speak up about your skills and experience. We want you to have a great volunteer experience (so you come back again of course!) and want to be able to make the best use of your time. For more information please contact Daniel Giovannelli or by phone at (724) 221-7510.