Here at Habitat for Humanity we love our volunteers. Generous crews of volunteers are one of the main ways we are able to keep construction costs down, which in turn is how we are able to subsidize affordable housing for low-income families.
Volunteering on a build is a great group activity for an employer, church or community group. The requirements are minimal, but we ask for at least 6-8 hardworking individuals that are over 16 years of age. We also accept semi-skilled or skilled individuals for our regular Friday morning work crew. Unfortunately at this time we are unable to accept individual unskilled volunteers. Please contact Daniel Giovannelli (724-221-7510) to discuss out volunteer opportunities and to get on the calendar!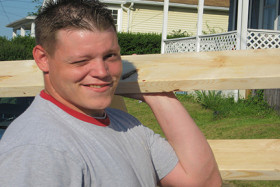 Habitat for Humanity partners with families to build or rehabilitate decent and affordable homes. Volunteers are a critical component in this. Part of what makes Habitat homes affordable is our ability to reduce costs through volunteer labor and donated building materials. Without volunteers we simply could not do the work that we do.