GREENSBURG, PA – Central Westmoreland Habitat for Humanity (CWHFH) recently announced two major build projects as a part of their 2017 building plans.  The non-profit organization, which is dedicated to building decent, affordable homes for community members throughout Westmoreland County, will bring together hundreds of volunteers to tear-out and rebuild homes within the City of Greensburg.  In a collaboration with community and business leaders, both major builds will focus on two blighted houses in the Healthcare District.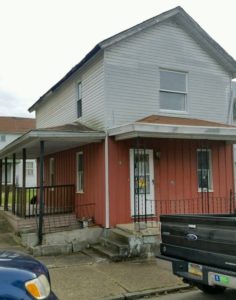 "Our core belief is that everyone deserves a foundation to build a future," said Executive Director, Daniel Giovannelli, "As leaders in the community, it is our responsibility to help people get, keep, and maintain a decent and affordable place to call home."  Giovannelli, now in his second year as Executive Director, continues to focus organizational efforts toward building and/or repairing homes throughout the 900+ square mile service area in Westmoreland County.
This initiative is aimed at building and repairing homes throughout the City of Greensburg to complement the revitalization efforts of City and county leaders.  "Blight in a neighborhood is a negative impact to community safety and moral," said Barb Ciampini, City Planner, "[Blighted properties] drag down the collective value of surrounding homes, impacting tax revenues and they attract vagrants, criminal activity and hopelessness."  
Both homes, located on Jefferson Avenue near Westmoreland Hospital, were funded through Revitalizing Westmoreland, an initiative of the Community Foundation of Westmoreland County. "Habitat for Humanity embodies the spirit of [the Foundation] through their commitment to organizational partnership, community input, and neighborhood stability," said Phil Koch, Executive Director of the Community Foundation of Westmoreland County, "We are a proud supporter of this work and look forward to great outcomes."
In addition to the Community Foundation, the Greensburg Community Development Corporation (GCDC) also assisted with identifying funding opportunities to improve this area of the city.  "During the Health Care District planning meetings with residents, they mentioned the need to attract home owners to their neighborhood while also removing blighted and abandoned homes that keep real estate values low," Steve Gifford, Executive Director of the GCDC, said, "Habitat's work to renovate and fill these two Jefferson Street houses is very helpful as we make progress towards achieving our goals for the neighborhood."
Giovannelli, along with the Board of Directors, utilized the Westmoreland County Land Bank during their project planning.  The Land Bank, with the help of Executive Director, April Kopas, and her team, played a key role in the project planning and prospective property identification. "We couldn't be happier with our partnership with Habitat for Humanity," said Kopas, "With our mission being to deter blight, promote redevelopment of vacant property, and to target specific neighborhoods for stabilization; it was a no-brainer to work with Habitat on this project as it was a win for everyone involved.  Two new families will be placed in affordable homes, and a long time tax-delinquent property will be placed back on the tax rolls again.  Many thanks to Habitat and all the volunteers who came together to save these houses and provide affordable homes for the local families in need."
Construction began in mid-January with an anticipated completion no later than December 2017.  With the hard work of volunteers and support from generous donors including the Community Foundation of Westmoreland County, Toyota of Greensburg, Lowe's of Latrobe, Home Depot of Greenburg, Excela Health, FirstEnergy and Wayne Homes. CWHFH can help two local families achieve the dream of owning a healthy, affordable home.
The completion of these homes, along with a number of critical home repairs throughout the county, will account for thousands of volunteer hours from churches, schools, local businesses and community groups. 
Take action now! Volunteer – Donate – Learn more about applying for housing