Lifelong worker from Irwin about to finally get some rest.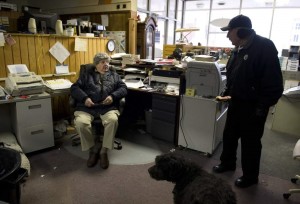 Barry Reeger | Trib Total Media
Frank K. Ross, 93, owner of Affordable Office Supplies in downtown Irwin, talks with borough parking attendant John Terpko ,78, of North Huntingdon on Dec. 19, 2014. Ross is retiring from the office supply business and donating a portion of the proceeds from an auction to Habitat for Humanity.
By Craig Smith, Wednesday, Dec. 24, 2014, 10:30 p.m.
Frank K. Ross worked his way through the Great Depression and then some. From hauling ashes he collected from his neighbors' coal furnaces to selling magazines and rhubarb door-to-door, Ross eked out a living in Wilkinsburg when few people could find work.
At 9 or 10 years old, he started selling newspapers."I got all excited. … I was paid three-fourths of a cent for each one sold," said Ross, 93, of Irwin, who is concluding a nearly five-decade career as owner of Affordable Office Supplies there.  His first purchase with the proceeds from his newspaper sales was a cap that cost $3. It was a special day for the young entrepreneur.  "I've always been a clotheshorse," he said. "Do you know how long I had to work to make $3?"
His mother died of breast cancer when he was 8 months old, and Ross was raised by his maternal grandmother, Rachel Grant, who lived to be 93.  An Army veteran of World War II, he worked at Isaly's before becoming a manager for Westinghouse Electric. From there, he went on to sell insurance and real estate, and build homes.
He's owned children's and men's clothing stores at shopping centers throughout the region and even owned a motion picture lab.  "I've been working all my life," he said. "You name it, I've done it."
Ross is liquidating his large inventory at a public sale Jan. 2 and 3. A portion of the proceeds will go to Central Westmoreland Habitat for Humanity, which is assisting in the sale.
The organization sells new and used building materials from its warehouse in Jeannette and plans to restart its ReStore retail facility at a location yet to be determined, using a fundraising campaign on the funding Website, www.gofundme.com/cwhfh.  "The ideal location would be somewhere between North Huntingdon and Latrobe," said board member Paul Hochendoner of Greensburg.
Irwin meter man John Terpko stops in the store at 210 4th St. every day to visit Ross and his dog, Spike.
"I was the most hated man in Irwin when I started," said Terpko, 78, of North Huntingdon. "One cold, rainy day (Ross) opened the door and said, 'Hey, young man, come in here and get warm.'"  Ross began calling him Dennis after an angry resident dubbed Terpko a "menace" for giving her a parking ticket.
An avowed dog lover, Spike is the first schnoodle (giant schnauzer/poodle mix) Ross has owned. He's had six giant schnauzers over 70 years, he said.
"He's a rescue dog," Ross said. "He rescued me."  His first wife "traded him in" after 10 years of marriage, and he remained single for 28 years, marrying his second wife in 1972. They are separated. He has two children, a son and a daughter.  Ross attributes his longevity to eating well-balanced meals and exercise.
"My heart used to skip a beat, but a doctor told me, 'It's resting, don't worry about it.' "
Craig Smith is a staff writer for Trib Total Media. He can be reached at 412-380-5646 or csmith@tribweb.com.